Best Animated Movies of 2021
Animation has been one of the few fields in the entertainment industry to weather the…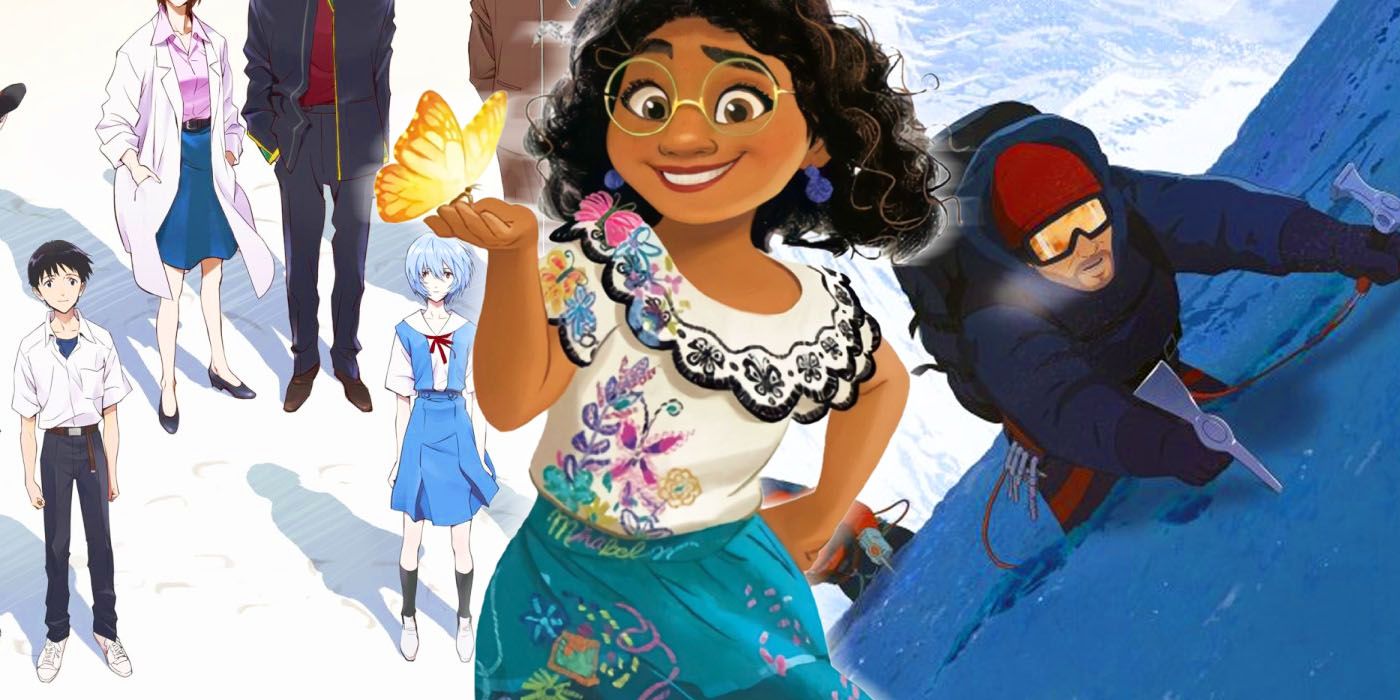 Animation has been one of the few fields in the entertainment industry to weather the adjustments to working from home relatively smoothly. Demand for diverse animation continues to rise, with anime growing more mainstream and American cartoons starting to take more risks. 26 films have been submitted for the Best Animated Feature Oscar this year, and that doesn't account for everything that's been released.
The following list of 10 animated features from 2021 should provide a thorough overview of some of the most interesting work being done in the medium. All listed films have been released in theaters or via streaming at least somewhere in the world over the course of 2021 (Inu-Oh, which premiered at film festivals this year but had its Japanese theatrical release delayed to 2022, will not be counted as part of this list).
RELATED: The Weirdest Movies of 2021 – And Why You Should See Them
10. Where Is Anne Frank
Where Is Anne Frank has yet to be released in the United States, but it's included on the list of 2021's best animated films in part to encourage someone to actually release it here in 2022. Director Ari Folman has been clear he wants the film to get a wide theatrical release marketed to children. Hebrew school and social studies teachers will be forever grateful for whoever does release it — while messy in parts, this beautifully animated and scored meta-biopic doubles as both a child-friendly lesson on the Holocaust and a moving statement on contemporary refugee crises.
9. My Sunny Maad
The biggest surprise among the Golden Globe nominations this year has to be the nomination of My Sunny Maad, a film without an official U.S. distributor that most people had never heard of. Its awards recognition is unexpected, but not unworthy. Michaela Pavlatova's film about love and family in early 2010s Afghanistan is a surprisingly entertaining watch for its first two-thirds and a serious tearjerker in its final act.
Following its Oscar-qualifying run, My Sunny Maad is set to have its official American premiere in New York City on Feb. 12, 2022.
8. Josee, the Tiger and the Fish
Seiko Tanabe's short story "Josee, the Tiger and the Fish," about the relationship between a wheelchair-using tsundere and her caretaker, has been adapted into many different movies and TV shows. Kotaro Tamura's anime adaptation is the one to receive the most mainstream release in the States, and it demonstrates what makes this narrative so appealing both as a romance and as a drama about disability.
Josee, the Tiger and the Fish will be released on Blu-ray and DVD by Funimation on Feb. 8, 2022.
RELATED: 5 Anime & Manga That Truly Understand Disability
7. The Summit of the Gods
An unusual example of a French filmmaker (Patrick Imbert) doing an animated adaptation of a Japanese manga (by the late great Jiro Taniguchi), The Summit of the Gods is a work of powerful atmosphere above all else. The story about the allure and dangers of mountain climbing forms the basis for a truly transportive and at times terrifying work of animation. It will make some people want to scale Mount Everest and give everyone else nightmares.
The Summit of the Gods is streaming on Netflix.
6. Encanto
Of Disney's major animated films this year, Raya and the Last Dragon was an enjoyable but underdeveloped fantasy adventure, while Pixar's Luca was a cute but unexceptional slice-of-life. It's the magical-realist musical Encanto that stands out as Disney's most creative and psychologically complex movie of the year. Every member of the Madrigal family is distinctive and lovable, and Lin-Manuel Miranda's songs are expectedly great.
Encanto is now in theaters and streaming on Disney+.
5. Belle
Mamoru Hosoda's Belle isn't the year's best anime, but it is anime you're most likely to convince your non-anime-loving friends to watch and enjoy. Covering similar ground to his 2009 masterpiece Summer Wars while mixing in generous elements of Beauty and the Beast, the film is stunning as an audiovisual experience and thoughtful as a look at growing in the age of social media, coping with loss and helping victims of abuse.
Following its awards-qualifying run, Belle will have preview screenings on Jan. 12, 2022 and enter wide release on Jan. 14, 2022.
4. Words Bubble Up Like Soda Pop
One of two features on this list widely available streaming but not submitted for Oscar consideration, Words Bubble Up Like Soda Pop is an anime romance impossible not to be charmed by. Teen romance anime are bountiful these days, but Kyohei Ishiguro's stands out with its colorful pop-art style, wacky comedy and thoughtful characterization. It's a film that feels like eating candy with a loved one on a bright summer day.
Words Bubble Up Like Soda Pop is streaming on Netflix.
RELATED: Jujutsu Kaisen Studio Releases New Art to Celebrate Movie's Success
3. Evangelion: 3.0+1.01 Thrice Upon a Time
The other entry on this list not submitted to the Oscars, Evangelion: 3.0+1.01 Thrice Upon a Time does for the classic Neon Genesis Evangelion anime series what The Matrix Resurrections does for The Matrix movies: it reflects upon its series' complicated legacy while giving its heroes the happy endings that previously escaped them. Does it all make sense? Not really. Does it need to? Not when it's this thoroughly satisfying.
Evangelion: 3.0+1.01 Thrice Upon a Time is streaming on Amazon Prime Video.
2. Flee
Flee, Jonas Poher Rasmussen's documentary telling the story of how his friend Amin escaped Afghanistan and established his life as an openly gay man in Denmark, was already looking like one of the best films of the year when it premiered at Sundance in January. In the aftermath of the U.S. military's withdrawal from Afghanistan, it's also become one of the year's most important.
Flee is in limited theatrical release and will expand to more theaters in January.
1. The Mitchells vs. The Machines
Michael Rianda's The Mitchells vs. The Machines isn't just the best animated movie of 2021 — it might very well be the year's most thoroughly entertaining movie in any medium. As brilliant in its own way as producers Phil Lord and Christopher Miller's previous hits Spider-Man: Into the Spider-Verse and The LEGO Movie, The Mitchells vs. The Machines is an uproarious comedy, a sharp satire on technology, a love letter to family and cinema, a weirdly prescient story about growing up amidst an apocalypse and the source of the best man vs. Furby action sequence ever conceived.
The Mitchells vs. The Machines is streaming on Netflix.
KEEP READING: A Dark Furby Theory May Reveal Them as Flesh-Devouring Predators
Doctor Strange 2 Shirt Suggests America Chavez's LGBTQ+ Status Translates to the MCU
About The Author